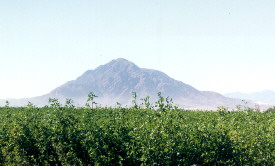 Mount Signal, or El Cerro Centinela
Mount Signal, located in the southern part of the Imperial Valley, is also known as El Cerro Centinela, by the Mexicans, and Weeishpa, by the Kumeyaay people.

Mount Signal was used by the early Pioneers and Native Americans as a landmark to help guide them through the desert. The fields that surround the mountain are excellent for hunting fowl. Most of the fields in the area are currently growing alfalfa (pictured) or sugar beets. On a clear winter morning, Mount Signal appears to leap into the scenic foreground making for a spectacular view.

Mount Signal is located south of Highway 98 between Calexico, California, and Ocotillo, California. Mount Signal Road takes you right to the mountain and the International Border. Unfortunately, there is not a Port of Entry here. However, there is a limited access area for off-road vehicles.

Even though Mount Signal appears to be in the United States, the large majority of it is actually located on the Mexican side of the border. If you would like to climb all 2,300 feet to the top, you must do so from the Mexican side. Please be careful, there are no maintained trails. During the 1870's U.S. engineers climbed the mountain to record the elevation, so there should be a monument marker at the top.



Take Imperial County's Photo Tour